It was such a disappointing exit to lower league opposition, but as the match wore on there was a sense that one big moment might be decisive. As it turned out it was a big refereeing call midway through the second half which turned things. Regardless of the penalty debate, Gary Doctor thinks Accies only have themselves to blame.
"The penalty didn't lose us the match. We made a mistake for the second goal and that's what's given us a mountain to climb."
"I thought there maybe wasn't enough time added on at the end. There were three goals in the second half, multiple substitutions and treatment for a player, and we've played only two minutes. In the end we've just ran out of time.
"It's hugely disappointing, and it was obviously very low after the game. We didn't play as well as we did last week. Some of the changes I had to make to the team affected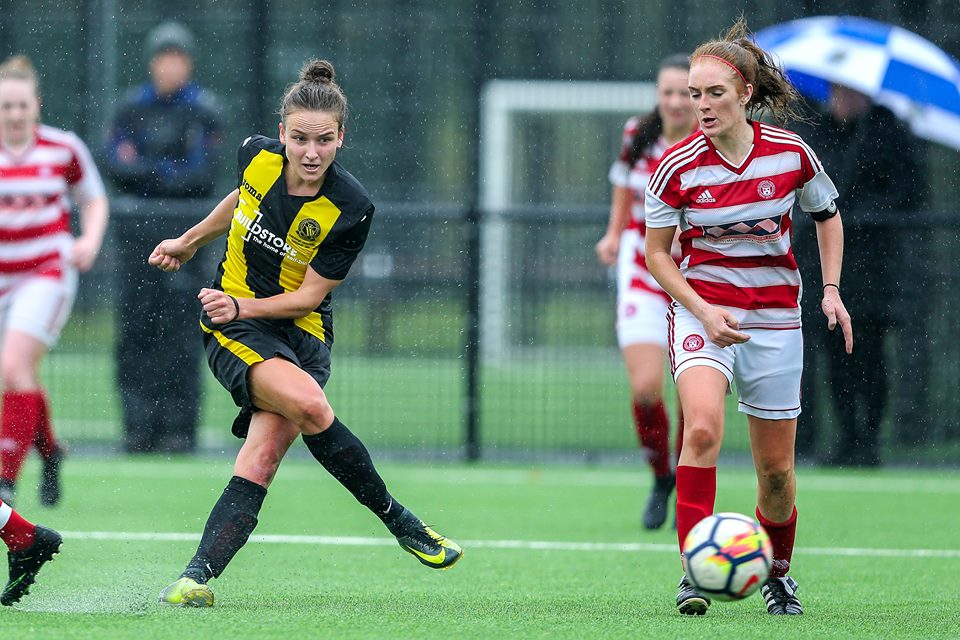 "Until the penalty I didn't feel we were in any danger. Neither team was making chances in the second half. I thought we could have done better in some situations in the first half, but we didn't have the courage or finish to finish off our good play and paid the price."
A rain soaked Peffermill greeted both sides, who to their credit managed some quick passing football in the opening 45. Accies were without the injured Jade Lindsay in defence, and Amy Bulloch dropped to the bench from last weekend's draw with Spartans. Nina Fitzimmons and Emma Lyons returned to a side, now captained full time by Amy Anderson.
It was the home side who created the first chance on 6 minutes, as Sturrock released McLeod through on goal, but Lauren Grant stood up well to make the stop.
We were meanwhile finding spaces in behind the home defence, with Gardner and Rice involved in some slick passing moves but with no end result. Rice then took matters into her own hands with an edge of box effort on 17 minutes, just finger tipped over by Parker-Smith in the home goal.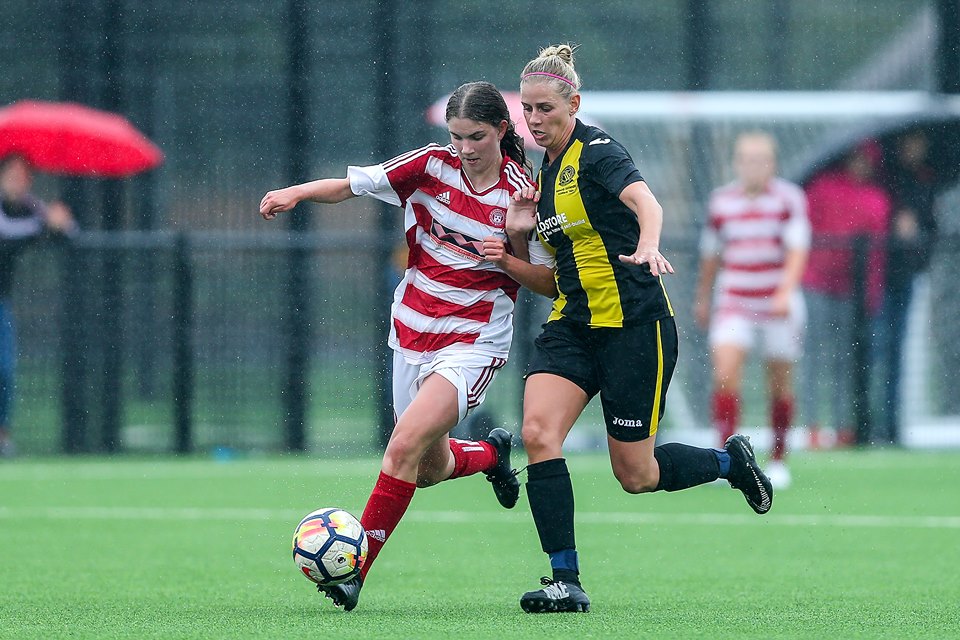 Both sides had a go in tricky conditions, with Accies just escaping on 22 minutes, after a mix up between Connolly and Grant. Kirsty Fraser got back to clear Brown's goal bound effort off the line and spare Accies' blushes.
Accies will be left ruing a good spell in the run up to half time, having nothing to show for it. Anderson sent Gardner through on goal on 39 minutes, but Parker-Smith held on at the second attempt. The longer this tie stayed goalless, you felt the home belief would only start to grow.
Injury to Rachel Ross forced Kirsty McIntosh having to step into an unfamiliar defensive role after the break and Accies lost their momentum in what became a scrappier contest in the second half.
But the turning point arrived midway through the half as a Fitzsimmons' clearance struck Kirsty Fraser in her own box. The referee adjudged it deliberate handball and Sturrock stepped up to fire the home side into the lead.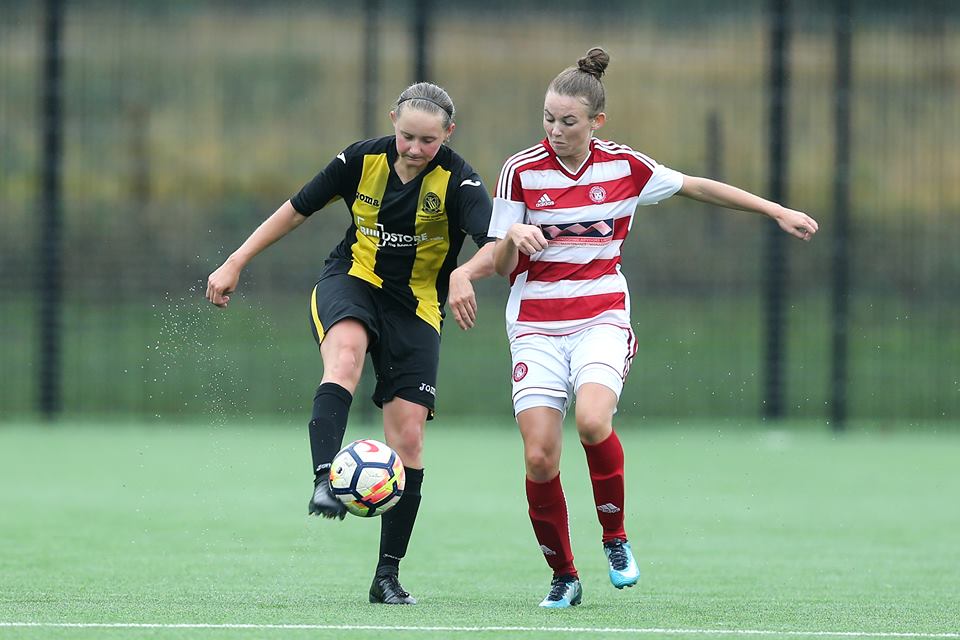 With nothing to lose we switched to a more attacking formation. Rice was again the main Accies' threat. A double salvo on 76 minutes requiring Parker-Smith to clear the danger for the home side.
The Edinburgh side looked a confident unit going into the final stages, and found the killer blow on 85 minutes, after a mix up between Fraser and Anderson allowed Hume to pounce inside the box and drill low under Grant.
A glimmer of hope arrived in the dying minutes, as Katie Rice finally beat Parker-Smith with a low free kick from the edge of the D. All too little, too late though, as Doctor looks to lift his side ahead of two tough league fixtures.
"The players gave everything but just lacked a bit of composure today. Injuries have caught up with us, but we'll get the players back and focus for Celtic at the weekend."
"It was obviously very low after the game, as you would expect and want. But we'll be back in on Tuesday and get the players ready for the remaining games."
EUHV: Parker-Smith, Brown, Boeckh, Shepherd (Clark, 45), Murray, Kerr, Ross, Sturrock, Smart, Hume, MacLeod; Subs Unused: MacDonald, Boslem, Bosman
Accies: Grant, Fraser, Ross (Bulloch, 45), Connolly, McIntosh, Fitzsimmons (Lyle, 84), Lyons (Quigley, 56), Anderson, Gardner, Rice, Hay (Brown, 74) ; Subs Unused: Hopkins, McCormick